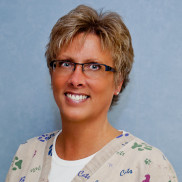 I am married with a son, daughter and two cats. I could easily be a "crazy cat lady" but my husband keeps me grounded! I started at Glen Lake Animal Hospital in the fall of 2003 as a part-time receptionist.
I have enjoyed working with clients and their animals, building relationships and watching those relationships grow to where we consider many of our clients family. It has been a pleasure working here.
When away from the job I enjoy gardening, reading and spending time with my family.